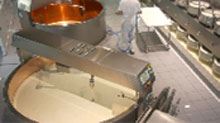 The food and beverage processing industry face a range of challenges. The sealing solutions must withstand the oils, acids, sugars, salts and other components of food and beverages. 
Simultaneously, hygiene and the highest level of cleanliness are top priorities.
In partnership with our suppliers Seal Innovations have a wide range of products and materials specific to the food and beverage processing sector. We can provide both OEM replacement product and custom developed solutions.