Mining
Mining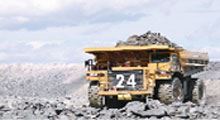 Seal Innovations technical staff have many years of experience in providing both standard and customised sealing components for use within mining equipment applications.
Mining equipment is applied in the most challenging environments and sealing systems are evolving rapidly to meet our customers' needs of strict safety standards and optimised equipment reliability.
Seal Innovations have access to premium elastomeric materials that are compatible with a wide variety of fluids used within mining equipment applications. Our flexible in-house manufacturing capability ensures our customers have access to the shortest production lead time possible.
Seal Innovations products are in use in the following Mining applications; Miners and shearers, Roof support systems, Roof bolting systems, Drilling units, Conveyor systems, Shuttle cars, Loader hydraulic systems and Washing plant pumps and gearboxes.
Small teams and individual designers need a space where they can watch the design process unfold, both for themselves and for the people they work with – no matter if it's a fellow designer, product manager, developer or client. Neotek allows you to invite more people into the process, creating a central place for conversation around design. As those teams grow, transparency and collaboration becomes integrated in how they communicate and work together.
Like what you're reading? Subscribe to our top stories.
Follow us on Medium, Twitter, Facebook, YouTube, and Dribbble.
Written by
I create advanced website builders made exclusively for web developers.
3 Comments

As a developer who loves finding creative and efficient solutions to problems this is awesome
Reply

Love it Jerome! We're all about keeping it up.
Reply

Maria Muszynska
2 days ago
Since our attention spans seem to be shrinking by the day — keeping it simple is more important than ever.
Reply
Post a comment