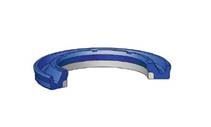 Seal Innovations HBY is a two piece single acting buffer seal which consists of one special designed elastomeric sealing element for to evacuate the back pressure and one thermoplastic back-up ring.
Advantages:
• No pressure build up between the primary and secondary seal
• High wear resistance
• Low friction
• Low axial housing heights
• Good protection to the secondary seal with pressure peaks
Applications:
Construction machinery , fork-lift trucks , injection moulding machines , agricultural machinery , cranes , earth moving equipment and standard cylinders.
| | | |
| --- | --- | --- |
| MATERIAL | x | CODE |
| PU | 92 SHORE A | PU9201 |
| POM | | PM9901 |



OPERATING CONDITIONS

MEDIA

Mineral oils(DIN 51524)

HFA ve HFB

HFC

TEMPERATURE

-40°C +100°C

+5°C +50°C

-30°C +40°C

PRESSURE

≤400 Bar

≤400 Bar

≤400 Bar

SPEED

≤0.5 m/sn

≤0.5m/sn

≤0.5 m/sn

Note: The above data are maximum values and cannot be used at the same time.
SURFACE ROUGHNESS

Ra

Rmax

Sliding Surface Ød

≤0.4 μm

≤3.2 μm

Groove Base ØD

≤1.6 μm

≤6.3 μm

Groove Flanks B

≤3.2 μm

≤16 μm

Note: It is recommended to have 50% to 90% of the working surface material contact area value.
Installation:
Easily assembled into closed grooves. It is very important that the assembly tools must be of soft material and have no sharp edges. Before installation the sealing element must be oiled with system oil.
Notes:
This HBY buffer seal is always used in a sealing system in combination with the U-Seal as they are not designed as being the main sealing element. HBY reduces the pressure peaks on itself in order to save the main sealing element with pressure fluctuations.
PERMISSIBLE SEALING GAP

B (mm)

Smax (mm)

x

150 Bar

250 Bar

400 Bar

≤ 6.3

0.6

0.5

0.4
Note: The largest sealing gap value occurring on the non-pressurized side of the seal does have a vital importance for the function of the seal and in this respect it is quite important to use the S value lower than the above indicated numbers.