Rail
Rail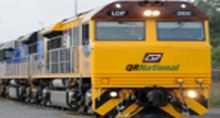 Rail infrastructure is an important national asset, heavy materials handling using Rail transportation methods are energy efficient and the safest way to move high volume materials across long haul distances.
Seal Innovations Sealing is proud to be part of the overall effort to keep our trains on the tracks. We do this by reducing repairers lead times in supply of various spare parts and seal kits used in repair of rollingstock equipment.
Our products are reliable, proven and ex stock, with same day delivery available with some high usage product lines.Seal Innovations high performance seal kits and components are used in the following Rail applications;
Triple Valves
Brake Cylinders
Grade Control Valves
Manual or Automatic change over valves
Isolation and cut-out cocks
Hoses connections
and Automatic Slack adjusters.
Small teams and individual designers need a space where they can watch the design process unfold, both for themselves and for the people they work with – no matter if it's a fellow designer, product manager, developer or client. Neotek allows you to invite more people into the process, creating a central place for conversation around design. As those teams grow, transparency and collaboration becomes integrated in how they communicate and work together.
Like what you're reading? Subscribe to our top stories.
Follow us on Medium, Twitter, Facebook, YouTube, and Dribbble.
Written by
I create advanced website builders made exclusively for web developers.
3 Comments

As a developer who loves finding creative and efficient solutions to problems this is awesome
Reply

Love it Jerome! We're all about keeping it up.
Reply

Maria Muszynska
2 days ago
Since our attention spans seem to be shrinking by the day — keeping it simple is more important than ever.
Reply
Post a comment